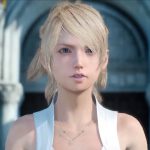 ---
New Final Fantasy 15 Trailer Shows More Summons and Drama
Square Enix has released a subtitled version of the Tokyo Game Show trailer released for its upcoming role-playing game, Final Fantasy XV. The trailer shows a number of new scenes featuring Noctis and his band of guy pals, as well as some new footage of Luna. In addition, the video shows glimpses of some returning Final Fantasy summons including Shiva and Leviathan.
Also, the car Noctis and his crew drive around can also turn into a flying ship.
Overall, the trailer is a good story primer for players who want to understand what is happening in Final Fantasy XV before the game is released on November 29.
In related news, Square Enix and PlayStation recently announced a Final Fantasy 15-themed PS4 Slim bundle which is coming to the US. The bundle includes a specially designed PS4 Slim, a copy of the game with a unique cover, and a digital copy of the animated prequel film Kingslaive Final Fantasy XV.
Recently interviewed Akio Ofuji, the behind the Final Fantasy XV Brotherhood anime–check it out for a behind-the-scenes look at the conception of the series.
Tokyo Game Show takes place from September 15-18 at Makuhari Messe. Has a team on the show floor, so be sure to stay tuned to our TGS hub for more content from the event!