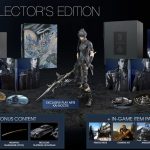 ---
More Final Fantasy 15 Ultimate Collector's Editions are on Sale
The first round of Final Fantasy XV Ultimate Collector's Edition units was sold in a flash. Just right after that Square Enix promised to produce more of them so 10 000 more units were on sale from May 23. It was announced in a blog post today.
Higher chances to get one of these are for those, who are on this waitlist. Then, if you are selected, you will get an email with private link to purchase the premium version. The link is only good for 48 hours and if you will not place an order at that time, the opportunity will be given to another Final Fantasy game fan on a waitlist. That scheme will work for those who are from North America.
While in Europe, the Final Fantasy XV Ultimate Collector's Editions will be available through Square Enix's EU store and will be sold on a first-come, first-served basis. And another thing – you will only be available to buy one copy.
You can find order options in other countries (France, Australia and New Zeeland) in this Square Enix blog post.
After the second round of 10 000 copies there will be 40 000 units of Ultimate Collector's Edition in total. While guessing why company didn't make the number even higher, the answer is the time that takes to create each individual Noctis Play Arts Kai figure as it is so detailed.
Another thing that worries Final Fantasy game fans is that Ultimate Collector's Editions are not guaranteed to arrive in time for Final Fantasy XV's launch on September 30, even knowing that Square Enix promised to do everything they could to avoid delays.
The price of Ultimate Collector's Edition is $270 and it includes a copy of Final Fantasy 15 game, special steelbook case, artbook, Play Art Kai statue of Noctis, soundtrack and more. Deluxe Edition (costs $90) is still available.