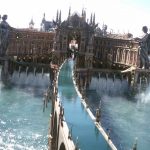 ---
Final Fantasy XV: Next News Event Date Announced
Active Time Report broadcast, a video series for Final Fantasy XV, will be held during E3 2016 event in June. It was announced by Final Fantasy developers, Square Enix. This information was shared today during a Japanese broadcast, DualShockers reported.
Unfortunately, nothing was said on what will be shown or discussed during E3 2016 event. However, it is very likely that this broadcast, like before, will have English captions. Also, it is a huge possibility that Final Fantasy 15 game director Hajime Tabata, will participate in the broadcast.
We are waiting for more news to be announced before June through other sources. E3 2016 will take place from June 14 to June 16 in Los Angeles. An official date for the Active Time Report was not confirmed yet. Square Enix also announced that they will produce more Collector's Edition copies of the game but it is hard to make sure that they still be available by the Final Fantasy 15 launch date on September 30.