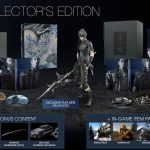 ---
More Final Fantasy XV Collector's Edition Units May be Released
Just after announcing the release date of the upcoming Final Fantasy 15, game developers, Square Enix, announced two special editions of Final Fantasy XV: Ultimate Collector's Edition and Deluxe Edition. Ultimate Collector's Edition was sold out in a moment and left some game fans disappointed so the company is trying to find the way of producing additional units.
Hajime Tabata, Final Fantasy 15 director, apologized about for the situation in the Japanese Final Fantasy Twitter account. He also said that the company, Square Enix, is trying to fix this issue. Tabata assured game fans that they are working on internal coordination to find a way to increase the production and promised to share more news about it soon.
There was quite a few chances to order the Ultimate Collector's Edition as there was only 30 000 copies of them produced. It was sold only in Square Enix's online store and it included a game, an artbook, special steelbook case, a Play Art Kai statue of Noctis, soundtrack and more. The price of it was $270. Dozens of sold out editions were re-sold on popular auction site eBay where their prices peaked even to $700. Square Enix, surely, should do something about this situation.
The other edition if the game – Deluxe Edition – is cheaper, costing only $90, and is still available to purchase online.
You can join the waiting list for both the Xbox One and PS4 versions for Final Fantasy 15 and hope that the additional units of Collector's Edition will appear soon.